Tokyo
7.10
How different my impressions are of Tokyo at this juncture, since my arrival nearly two months ago; the smells and sounds of India having long receded into the smoke filled and far flung corridors of memory. In juxtaposition to Japan's flowering valleys, remote mountain villages, and the ancient shinto shrines of enchanted pine forests, the city appears a concrete jungle, with all sorts of dangerous animals of the human variety lurking about. I found myself riding down Meiji-dori behind a cyclist even more belligerent than myself - "Dorothy, you're not Sendai anymore" - It's good to be in Tokyo once more!
The Enoar or Picture cafe is not so much a business as a gathering of friends for tea, coffee, and cake. Open Saturday, Sunday and Tuesday for an art workshop, Enoar is nestled in the farthest reaches and more densely wooded section of Yoyogi-koen, on the would be Main street of Blue Tent City. At a half-hazard collection of reclaimed chairs and rickety tables, gather the tent dwellers, street sleepers, and their friends and supporters. It was a beautiful Saturday afternoon and it was here that I arranged to meet with the punk rock musician and activist Kaori and gain an introduction to Blue Tent City resident artist, Misako. Upon my arrival, my hosts were as of yet absent, but I was graciously offered a seat and some tea while I waited in the cafe du plein aire. The cafe's patrons were a motley crew of men and women from diverse generational and socioeconomic backgrounds, united only by their eccentricities. Initial pleasantries exchanged, I made a presentation of my art to the crowd at hand. Not long after, Kaori arrived followed by Misako, who, in begging pardon for her earlier absence, described for me the meeting with the park officials that had detained her. Misako was acting as mediator on behalf of a long time Blue Tent City resident who has recently been diagnosed with cancer. The resident in question desired to begin treatment at a local hospital, of which extended impatient care was required. Consequently, she has been placed in the dubious position in which she must chose between her home in the park or her health. The park officials, which have been attempting for some years to evict the park's homeless population, closely monitor the number of tents and at the first signs of vacancy, the offending tent is promptly removed together with all its belongings. Misako was confident an agreement will be reached in which her friend and neighbor will not be forced to make such a sacrifice. A graduate of the University of Tokyo, Misako has dedicated her life to her art and the residents in her adopted community are the principle subjects of her work. Misako has been a resident of Blue Tent City for 8 years now and over the years, she has witnessed much change within the community. When she first arrived, it was a self sufficient community approximately 300 strong. There were those among them that specialized in the acquisition of used clothes and others in discarded food products; in addition to a cafe, there once existed a bar and even a barbershop. Residents of the the Blue Tent community live on the fringe of society and theirs is a communal living, in which goods are shared and traded. Although they've grown smaller over the years, this aspect of their society has not changed. Beginning nearly five years ago, Misako tells me, the city began actively attempting to evict the homeless from the park. They came to the residents of Blue Tent City dangling attractive offers of government housing and unfortunate for their community, many took the bait and were forced to sign agreements never to return to Yoyogi-koen. Many, however, refused to compromise their homes and community and they still live here today in resistance to the gentrification that is growing around them at alarming speed. There are only 80 or so residents left in Blue Tent City and their numbers are on the decline, as park officials vigilantly enforce a prohibition that bars new additions. Sure enough, when I recently attempted to pitch my tent, I was quickly intercepted by said officials and had to suffice with a park bench for the night.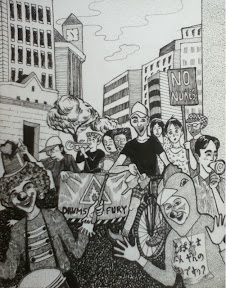 Nearly every weekend since March, I'm told the streets of Tokyo have been occupied by protestors demanding an end to Japan's reliance on nuclear power. Sure enough, as I was leaving the Enoar Cafe, one such protest was underway in Shiboya City, the most densely populated of Tokyo's 23 Wards. Today's event was entitled "Drums of Fury" and in parade formation, participants armed with percussion instruments of all kinds, many hastily made from house hold implements, filled the halls of the cityscape with an obstreperous clammer in an act of protest. Yet, despite its truculent appellation, the atmosphere was decidedly jovial. Some were clad in costume, dancing and singing befittingly dissonant tunes of dissent. Spectators shouted their approval and many even joined ranks, causing the parade to swell to double its original size. Not satisfied to remain a mere spectator, I fixed my camping pot and pan to the handle bars of my touring bike and with a metal spoon I joined the cacophony of "Drums of Fury" down city streets.